What is the Academy of Medicine?
As an advocacy organization, the Academy speaks out for physicians on legislative and reimbursement issues affecting the practice of medicine. Members are kept informed of issues and activities through it's print newsletter, Cincinnati Medicine Digest, and e-newsletter, News Briefs.
The Academy also sponsors programs and continuing medical education activities for physicians and others in the health care community, as well as special events for members and their guests.
The Academy assists physicians in the management of their busy practices by offering a variety of services and benefits including alliances with local businesses to provide special discounts and savings to members.
Additionally the Academy works to connect member physicians with patients and the community at large. The Academy offers an online physician referral service for community members looking for a physician in the area. Along with the referral service, patients are served through the Academy of Medicine's involvement in a variety of health care related associations in the area, e.g., the Doctor's Foundation.
President's Message

Message from President E. Wyman Morriss, MD


Fellow Academy of Medicine of Cincinnati members:
It is my great pleasure to serve as president of the Academy for the 2020-2021 year. Once again, I would like to thank Dr. Hardin, our immediate past president, for his wisdom and guidance of the Academy this past year, and to all of our past presidents and councilors for their time and service. Despite the numerous limitations that COVID has imposed on each and every one of us, I am hopeful that we can build on our recent successes to have another great year for the benefit of all physicians in the Greater Cincinnati area.
The Academy of Medicine of Cincinnati was founded in 1857 as a professional association for physicians in Hamilton County, Ohio. The mission of the Academy of Medicine has always been to advocate on issues affecting physicians' ability to practice and to foster an environment to practice the highest quality medicine possible. While these goals remain unchanged, the ways and means of achieving such results have changed. In 2018, for example, approximately 44% of physicians were employed by a hospital or health-system, up from 25% in 2012. Only 15% of physicians are currently solo practitioners, down from over 50% in the 1980s.
The Academy is a singular voice in Greater Cincinnati advocating for ALL physicians, seeking to bring ALL physicians together, and working to improve ALL physicians' practices and quality of life. Through our active workgroups, we remain committed to offering educational, social, and wellness benefits for all of our members. Our hope is that every single member finds value in our efforts and participates in our activities throughout the year. Please explore our newly designed website to ensure that you are up to date on all of our plans. And please feel free to contact me or Natalie Peterson, Academy executive director, at any time with any suggestions or comments.
Thank you all for your continued support for this great organization.
Best regards,
Wyman Morriss, MD
Executive Director's Message
Message from Executive Director Natalie Peterson


Making the Local Physician Community Stronger in the 21st Century
The Academy of Medicine of Cincinnati, founded in 1857, has a rich history in the Cincinnati community. The Academy exists to organize, represent, advocate for, and serve physicians of Greater Cincinnati. Over the past several years, we experienced a decline in membership but are now seeing renewed interest with more and more physicians either joining or re-joining their local medical society. They see the importance of one voice – a common place where physicians can express their opinions to help make the physician community stronger and bring about change. Whether you are an employed or an independent physician, most face the same struggles ... EHR, burnout, legislative issues, MACRA-changes to physician reimbursement, uncertain practice environment, challenges with patients, increasing workload, maintenance of certification, etc.
As we move forward, the Academy is concentrating on five key areas: physician wellness focusing on prevention and education; political and professional advocacy; dispute resolution/legal practices as they relate to physician wellness; educational activities; and social activities for members and their families. Work groups of physician members are forming to address these initiatives and implement plans.
In 2020, the Academy has updated is website and enhanced its "Find a Physician" component so that patients can easily find an Academy member who fits their needs.
Additionally, the Academy offers its members cost-saving benefits at car dealerships, entertainment venues, restaurants, the arts, and much more. All members can take advantage of these benefits, which can offset your dues investment.
If you are a current member, I encourage you to get involved in your local medical society.
If you're interested in being a part of a work group or have a suggestion, please contact me.

For those that are visiting our website for the first time, welcome, and for those thinking about joining the Academy, I encourage you to do so. Talk to a fellow physician about the Academy or contact our office at 513-421-7010.
Please help us restore your local medical society – which has been around for more than a century – to a place of prominence in our community!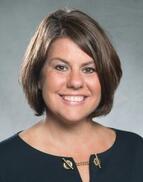 Best,
Natalie Peterson