Complete Story

04/24/2023
Only Two Days Left to Register for Annual Meeting & Awards May 4th
Academy Members & Area Physicians,
There are only a few days left to register for the Academy of Medicine's 166th Annual Meeting & Awards on Thursday, May 4th at Cooper Creek.
Join us for a wonderful evening of celebration, including:
Presentation of the Academy Foundation's Daniel Drake Humanitarian Award to John M. Tew, Jr., MD
Recognition of the legacy of Dr. O'Dell Owens by Cincinnati Medical Association
Installation of 2023-2024 Academy of Medicine Council including President Elect Barry Brook, MD
The evening will also feature a drinks reception, dinner, a raffle to benefit the Academy Foundation, and a "special guest appearance" in recognition of "May the Fourth!"
Registration ends this Wednesday, 4/26 so don't miss out!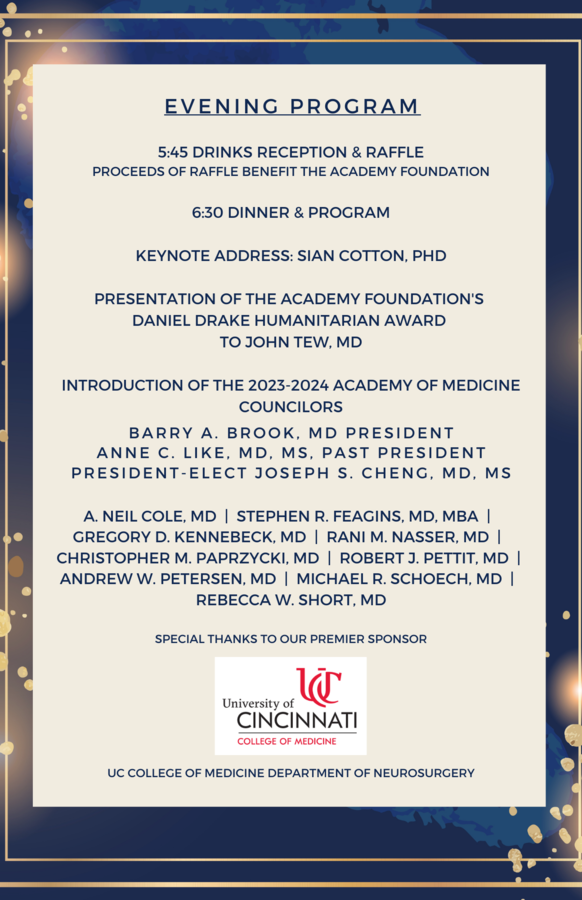 Sincerely,
The Academy of Medicine of Cincinnati
---