Complete Story

05/09/2022
What's For Dinner? Free Flow and Filet Mignon-Sign Up Now!
Choose from Filet Mignon or other Chef Prepared Options
Missed the memo on this Thursday's Free Flow Yoga Class and Take Home Dinner? There's still time to register! Bring your partner and make it a date night or enjoy the company of your peers.
Join us at Season's Thursday, May 12 at 6pm for a Complimentary Yoga Class. Take advantage of their chef's talents and order a meal "to go" following the class. Check out the delicious options below.
Entree Options $12 each
Filet Mignon-Cooked to order and served with sautéed bordelaise mushrooms
Grilled Salmon-Fresh grilled salmon topped with boursin butter cream sauce
Shrimp Alfredo-Succulent shrimp tossed with al dente pasta in our house made alfredo sauce
Chicken & Red Wine-Boneless chicken breast and fresh vegetables braised in a red wine sauce
Stuffed Portabella Mushroom-Stuffed with sautéed spinach, roasted red peppers, braised shallots, topped with Boursin Butter Cheese
Dessert - $6 Each
Full Cherry Pie or Full Apple Pie
Register for the event here: https://aomcyoganight.eventbrite.com
Food orders must be placed by Tuesday 5/10 at 5pm.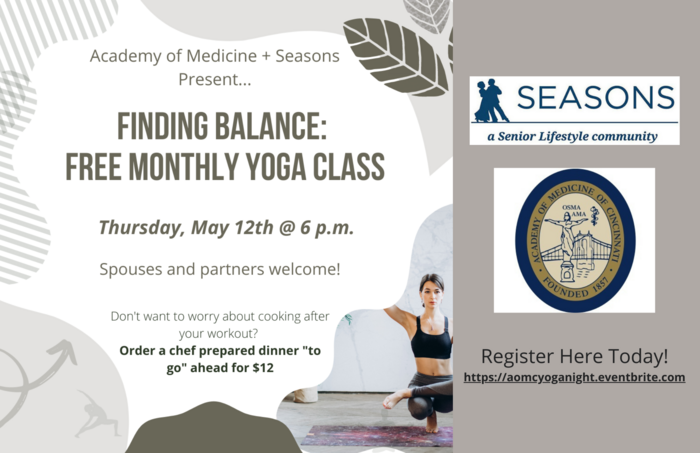 ---