03/16/2022
Academy of Medicine of Cincinnati's New Executive Director
The Academy of Medicine of Cincinnati welcomes its new
Executive Director, Jessica Sellar.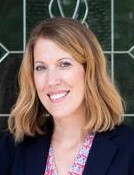 Jessica, originally from Cincinnati, graduated from Miami University with a Business and Psychology degree. She has held leadership roles in a variety of fields during her career, including media, occupational health, and behavioral health. In her early career, Jessica spent eight years living in Bristol, England, where she helped grow a UK publishing company into a global business events firm. Following her time abroad, Jessica returned to her hometown of Cincinnati and entered the healthcare sector. It was during this time she gained a true appreciation for the tireless efforts of and the demands upon physicians. As an operations leader, she worked to identify and remove barriers in providing optimum patient care and prioritized supporting physicians in their efforts to do so. Most recently, Jessica served as Outreach Director for a local behavioral health treatment program specializing in treating physicians. The experience further opened her eyes to the unique wellness needs of healthcare providers. She was drawn to the mission of the Academy of Medicine of Cincinnati, where she aims to amplify the Voice of Medicine in Cincinnati through advocacy, education, social, and wellness initiatives.
Jessica enjoys time with her husband, James, and children Grayson and Everly above all, as well as walks with her dog Molly and listening to documentary podcasts.